Dear SuperEx users,
Get started with third party platform in P2P
How to Get Started
1.Log in to your SuperEx account and click [P2P] from the top navigation bar.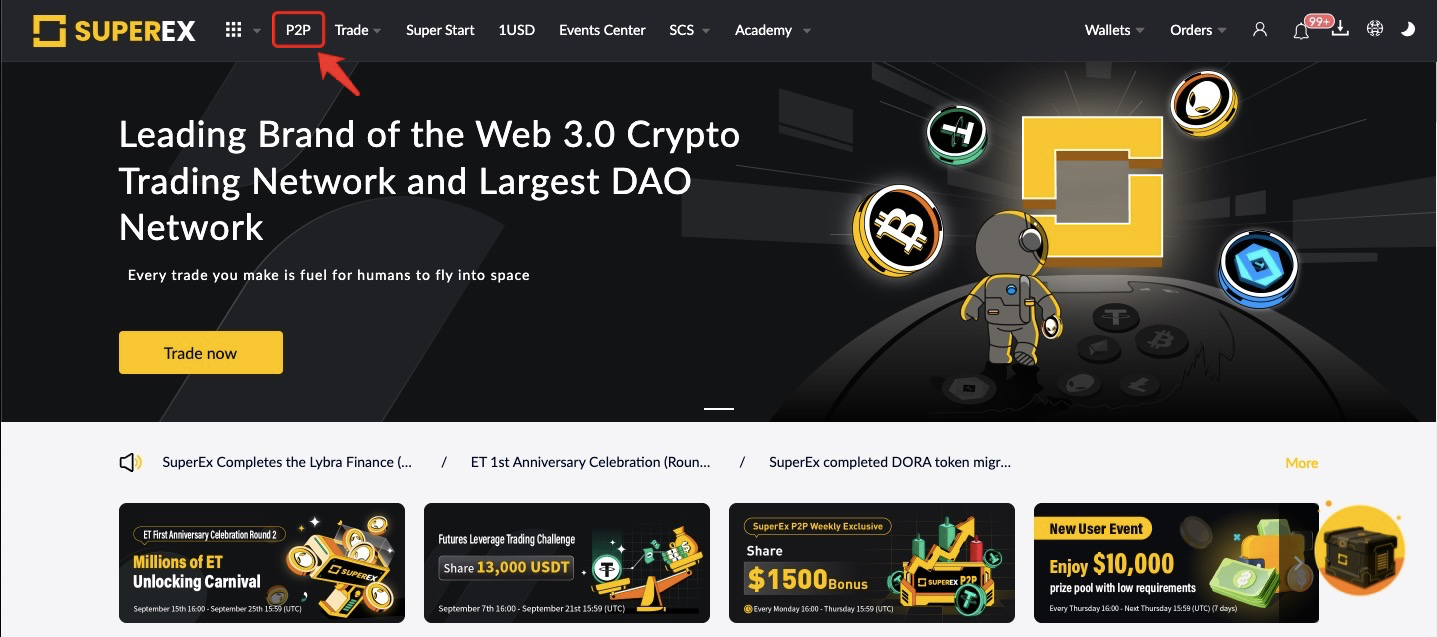 2.On the crypto purchase page, select the digital assets you want to buy and a fiat currency for payment and enter the total value of the fiat currency. Take Mercruyo as an example, select an available payment method and choose [Mercuryo] as the service provider. Confirm all the information of your order: crypto amount and total fiat currency value and then click [Submit].
P.S. In order to proceed to the next step, you need to complete SuperEx identity verification. For instructions of complete SuperEx KYC, kindly check the link: https://support.superex.com/hc/en-001/articles/15960826425113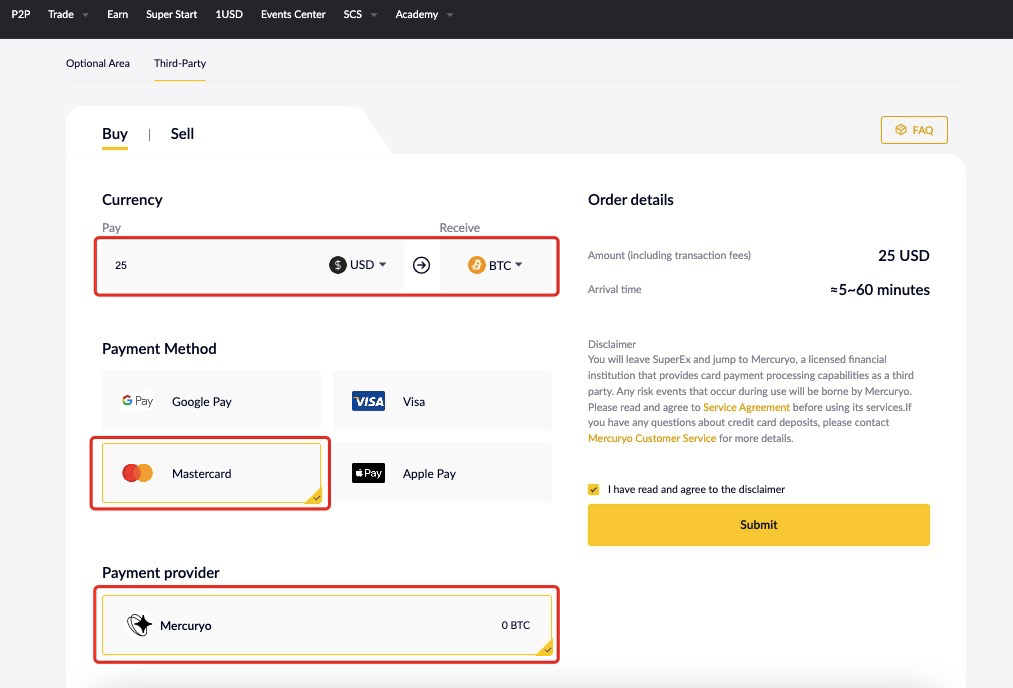 3.You will be redirected to Mercuryo's website. Fill in the email address required and click [Continue].
4.Fill in the verification code you received in your email address.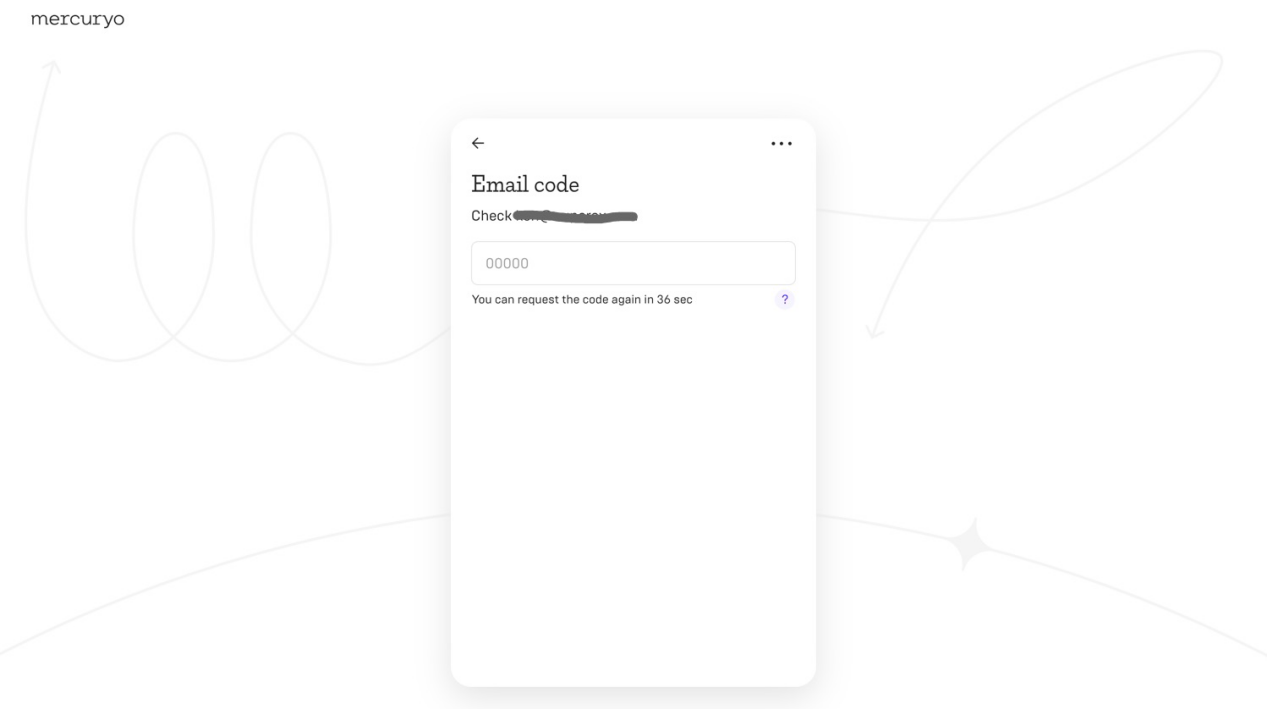 5.Enter your personal data as it appears on your ID.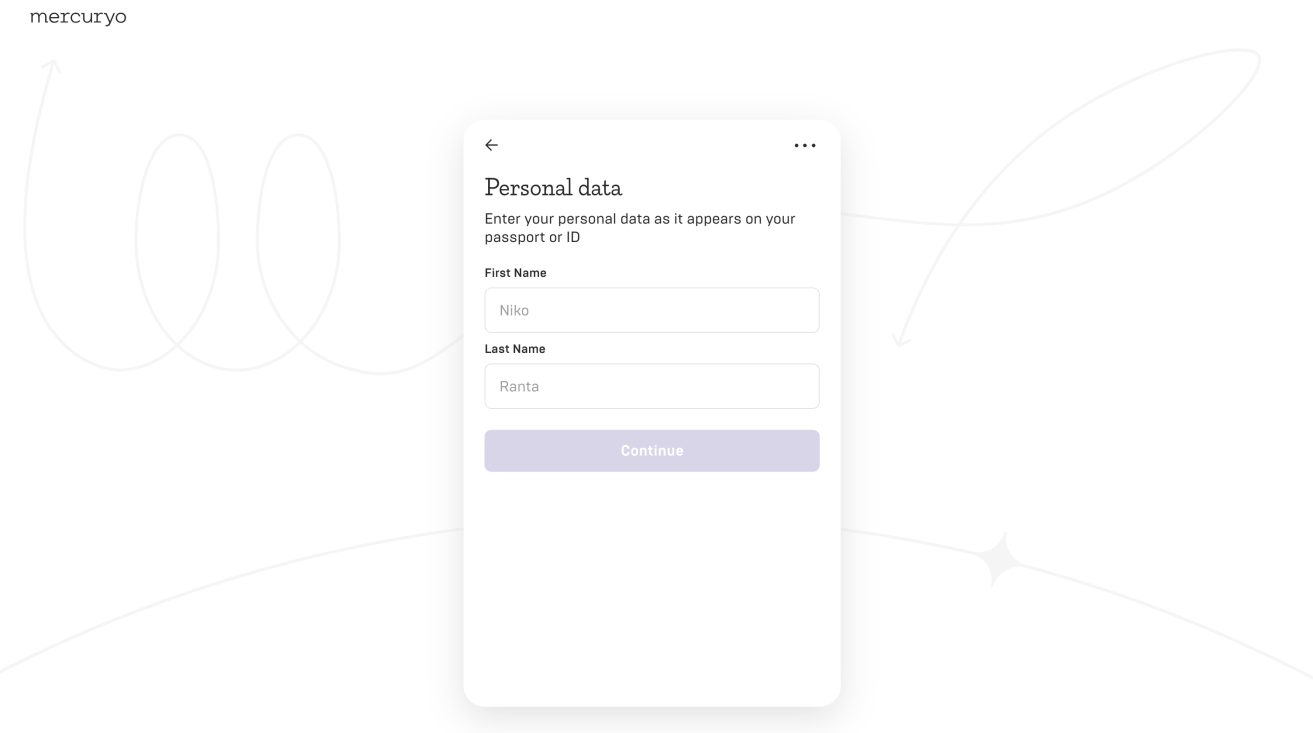 6.Fill in the detail of your payment method and click [Pay] to complete your purchase.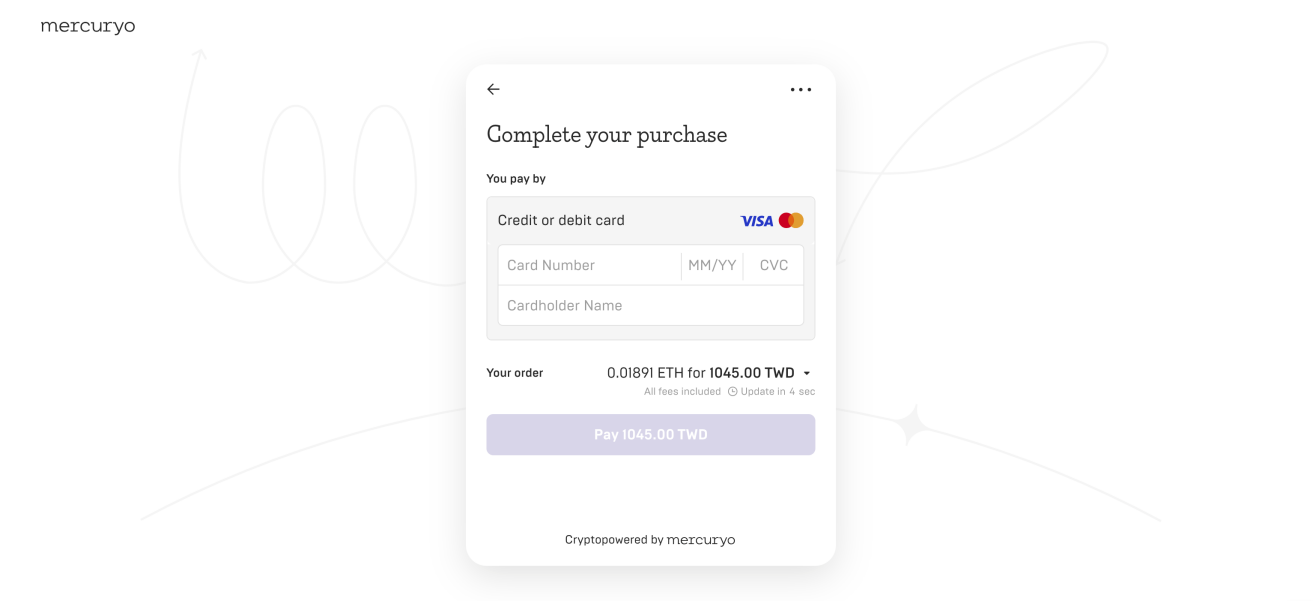 7.As soon as the transaction is completed, you will receive an email from Mercuryo. You will also receive a deposit confirmation email from SuperEx once your purchased asset is credited into your account upon the purchase's completion.
How to Buy
Other FAQs
1. What payment methods can I use to buy cryptocurrency?
SuperEx currently supports VISA, Mastercard, Apple Pay, Google Pay, and other payment methods. The supported third-party service providers include Mercuryo and Alchemypay.
2. What cryptocurrencies can I purchase?
SuperEx supports mainstream cryptocurrencies such as BTC, ETH, USDT, LTC, EOS, XRP, BCH, ETC, and TRX.
3. Does SuperEx monitor the quality and prices of the supported third-party service providers?
SuperEx has carefully selected a number of service providers with trusted industry reputation, popularity, and security to provide users with streamlined services.
4. What fees do I have to pay to buy cryptocurrency?
You pay a fee to the third-party service provider and an on-chain transfer fee. SuperEx does not charge any fees.
5. How long does it take to receive the cryptocurrency after payment?
After your payment is completed on the third-party service provider platform, your cryptocurrency will be deposited into your spot account on SuperEx in around 2–10 minutes.
6. What if I encounter problems during the purchase process?
Contact customer support if you encounter any problems during the transaction process. If you have not received the cryptocurrency after payment is completed, contact the third-party service provider to check the order details (this is usually the most efficient method). Due to the IP of your current region or certain policy reasons, you will have to select human verification.
7.Why the final quote I get from the fiat on-ramp service provider is different from that shown on SuperEx?
The quote displayed on SuperEx is for your reference only. It is calculated based on the real-time price provided by the third-party vendors, which is subject to deviation caused by market changes or calculation errors. Please refer to the official website of the service providers for the latest exchange rate.
8. Why the final exchange rate I get is different from what I see on SuperEx?
The exchange rate displayed on SuperEx is the quote at the moment of your inquiry and does not reflect the latest changes in the crypto price. Therefore, it is for your reference only. Please refer to our third-party service providers' websites for the most up-to-date exchange rate that will apply to you.
9. Will SuperEx keep my credit card information?
No, SuperEx will not keep any information related to your credit card. All information needed for one-click crypto purchases will be kept and managed by third-party providers. For more details, please refer to their privacy policies.
10. Can I see all my fiat on-ramp transaction history?
You can find all your fiat on-ramp transactions in [History] on the [Buy Crypto] page.
11. Can I choose to buy crypto with the fiat currencies of countries other than my country of nationality?
This depends on the KYC requirements of third-party providers. You can learn more about this from the provider you choose.
If you have any questions, please contact our online customer service, thank you for your support to SuperEx.com.
SuperEx team
September 18, 2023